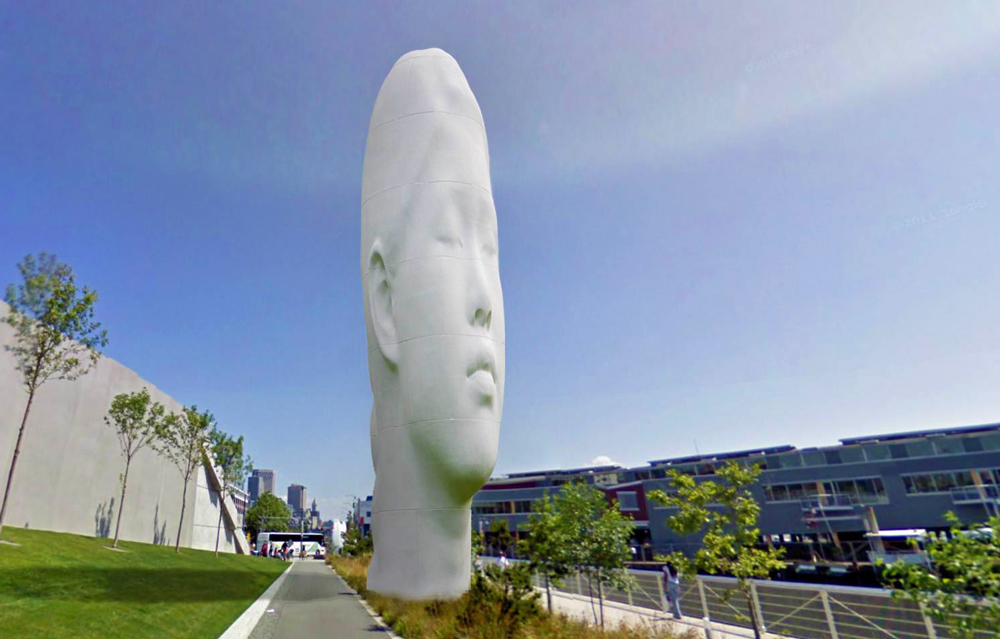 Echo, Seattle Art Museum's massive new addition to the Olympic Sculpture Park, is starting to take shape.
A spectacular and iconic addition to the park, the 46-foot-tall sculpture by Spanish artist Jaume Plensa, will greet visitors as they wander the shoreline.
Echo has been given to the Seattle Art Museum from the collection of Barney A. Ebsworth. It was originally commissioned by the Madison Park Association in New York and installed at Madison Square Park in 2011 to great acclaim. It is made from resin, steel, and marble dust, and altogether weighs 13,118 pounds.
Echo was modeled on the nine-year-old daughter of the owner of restaurant near the artist's studio in Barcelona. With computer modeling, Plensa elongated and abstracted the girl's features. The sculpture's title references the mountain nymph of Greek mythology of the same name.
As told in Ovid's Metamorphoses, Echo offended the goddess Hera by keeping her engaged in conversation, and preventing her from spying on one of Zeus's amours. To punish Echo, Hera deprived the nymph of speech, except for the ability to repeat the last words of another.
Plensa offers us Echo with her eyes closed, seemingly listening or in a state of meditation. Envisioning Echo looking out over Puget Sound in the direction of Mount Olympus (a further reference to Greek mythology that is already embedded in the landscape), Plensa also intends for the sculpture to serve as a gathering point for introspection and contemplation. In our increasingly networked culture where information is endlessly copied and repeated, it is a work that invites viewers to pause.
Drop by the park and check out the progress when you have a moment. It's easy to spot Echo. Join her near the water and spend a few quiet moments next to her thoughtful presence at the Olympic Sculpture Park.