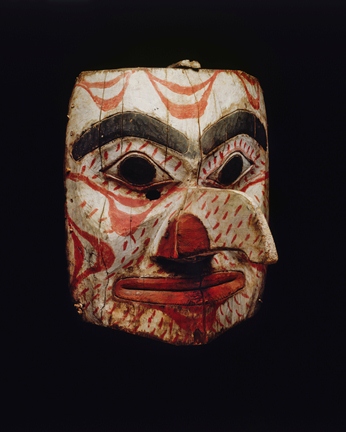 Identified as "Giant" by the collector, we can only imagine how the dancer would have revealed the nature of the formidable being—part man, part bird—portrayed in this mask. Naxnox masked dance performances dramatize prestigious names of supernatural beings, including "Giant," that make up the pantheon of powerful spirits.
Masks exhibit the greatest range of sculptural variation of all Northwest Coast art forms. The diversity of mask types and their uses reflects the unique cultural beliefs and ceremonial traditions of each group. Five new masks, including this Naxnox mask, were recently added to the Native American art galleries.
Naxnox Mask, ca. 1900, Git'ksan, Kitwancool Village, British Columbia, red cedar, paint, 15 3/8 x 12 3/16 x 12 3/16 in., Gift of John H. Hauberg, 91.1.49. Now on view in the Native American art galleries, third floor, SAM Downtown.