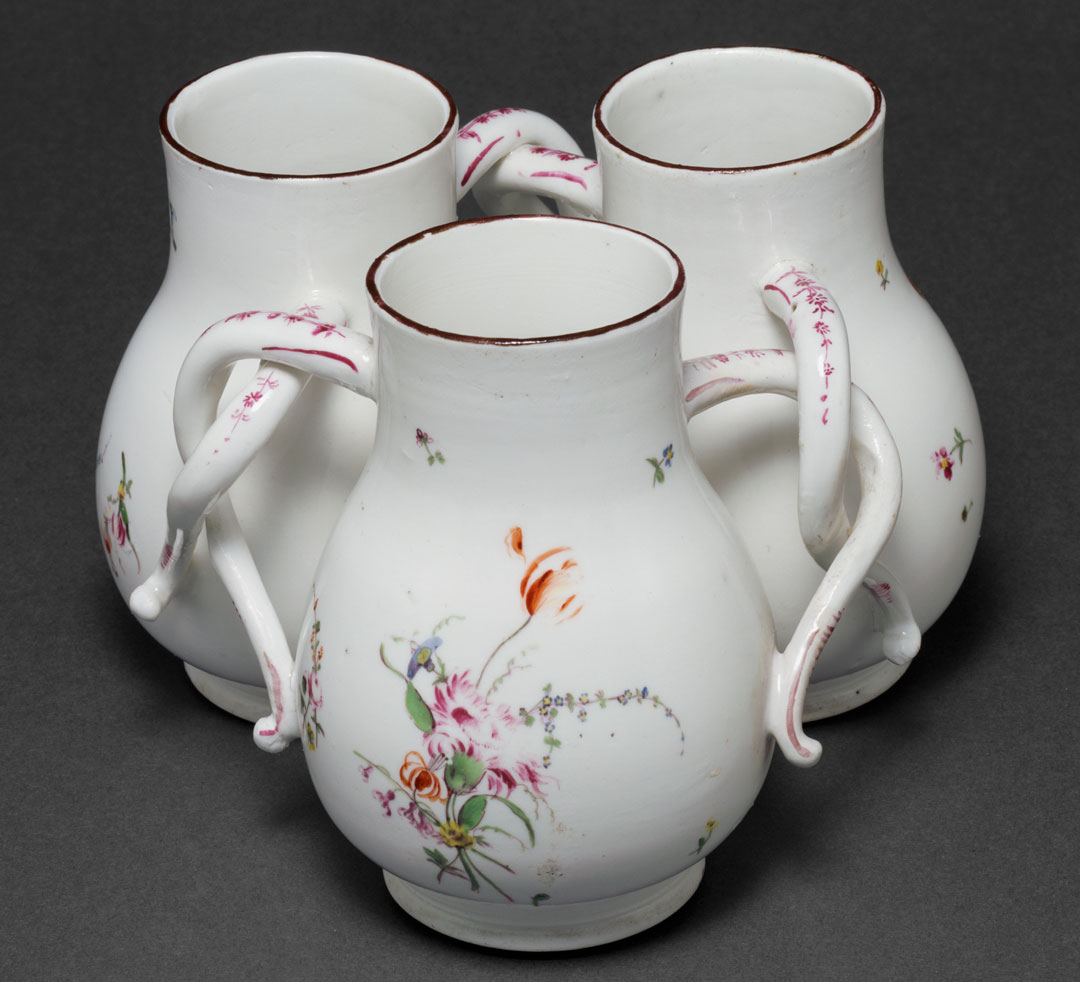 Some things never go out of style, but some words do. Take, for example, fuddle (verb) ca. 16th century: 1. confuse or stupefy (someone), especially with alcohol; 2. a state of confusion or intoxication. Fuddle, related to a more common and modern derivative, befuddle (which dates to 1873), was once so in vogue that it was incorporated into drinkware terminology: the fuddling cup.
This Triplicate vase, also known in England as a fuddling cup, is really three mugs in one. Joined together by slip prior to the kiln, these three uniform mugs are connected internally so that liquid can flow from one to another as emptied and imbibed. The cups' intertwined handles add further illusion to the nature of their fabrication.
The German porcelain factory Höchst, which produced this delicate piece, was founded in 1750 by the Elector of Mayence, near Mainz, just outside of Frankfurt. The lightly colored floral design is representative of the manufactory's early painting style (not to mention the eighteenth-century European predilection for botanical motifs), which helps dates the fabrication of this piece circa 1755.1
In England, such vessels were usually associated with taverns, and considered "'joke' drinking pots."2 The modest size of each individual vessel would deceive the uninitiated drinker, who was encouraged to finish the contents of a single mug, when in reality they would be consuming the alcohol in all three; the result would be confusion from the practical joke as well as from the volume of their alcohol consumption. Confusion and intoxication are inextricable when fuddling cups are involved, no matter how delicate and unassuming they may appear.
–Elisabeth Smith, Collections Coordinator
1 Julie Emerson, Jennifer Chen, and Mimi Gardner Gates, Porcelain Stories: From China to Europe (Seattle: Seattle Art Museum, 2000), 235.
Image: Triplicate vase, ca. 1755, German, Höchst, hard paste porcelain, 4 1/2 in. height, 19 1/2 in. girth, 2 1/16 in. diameter, Gift of Martha and Henry Isaacson, 69.175.