Spencer Finch's The Western Mystery portrays one of our most familiar temporary experiences: a sunset. This new installation of ninety glass panes suspended from the PACCAR Pavilion's ceiling opened at the Olympic Sculpture Park in April. The glass panes are sixteen shades of yellows, oranges, blues, and pinks based on the hues found in the artist's photographs of Seattle sunsets. As the glass squares subtly rotate overhead, their surfaces capture fragmented reflections of the park that fade in and out of view.
Much like a sunset itself, The Western Mystery is an ephemeral experience. Over the past 10 years, the Seattle Art Museum has hosted 15 temporary installations by local, national, and international contemporary artists. SAM celebrates the sculpture park's 10th anniversary this summer with Spencer Finch's installation, as well as a new sculpture by Tacoma artist, Christopher Paul Jordan. Titled Latent Home Zero, Jordan's "interactive silent film" is experienced through a binocular telescope that integrates collaged imagery related to the migration of African American people across the US with distorted, real-time views of the sculpture park.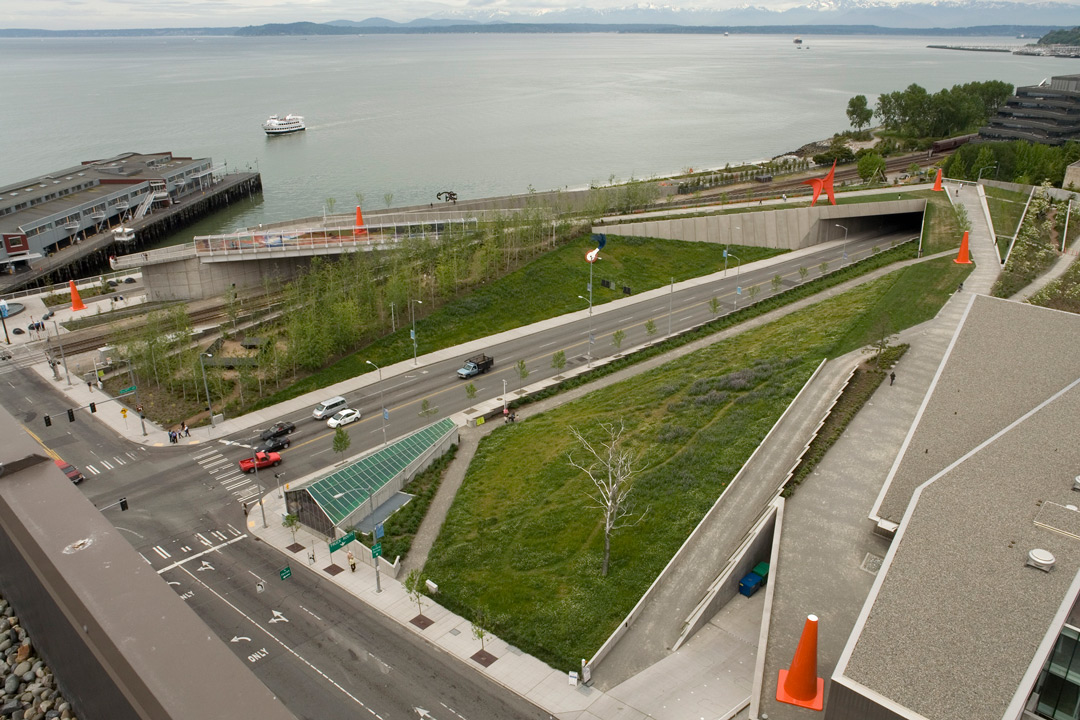 SAM first began installing temporary art with Dennis Oppenheim's five, massive Safety Cones, in the summer of 2008. But, the first temporary work appeared unexpectedly in 2007, shortly after the sculpture park opened. Mimi Gardner Gates, SAM's Director from 1994–2009, recalled, "Early on, the artist group PDL created Eaglets under Alexander Calder's The Eagle—a nest with three little Eagles. I loved that because it was Seattle's artists responding to the sculptures in the park. To me, that really brought the park alive."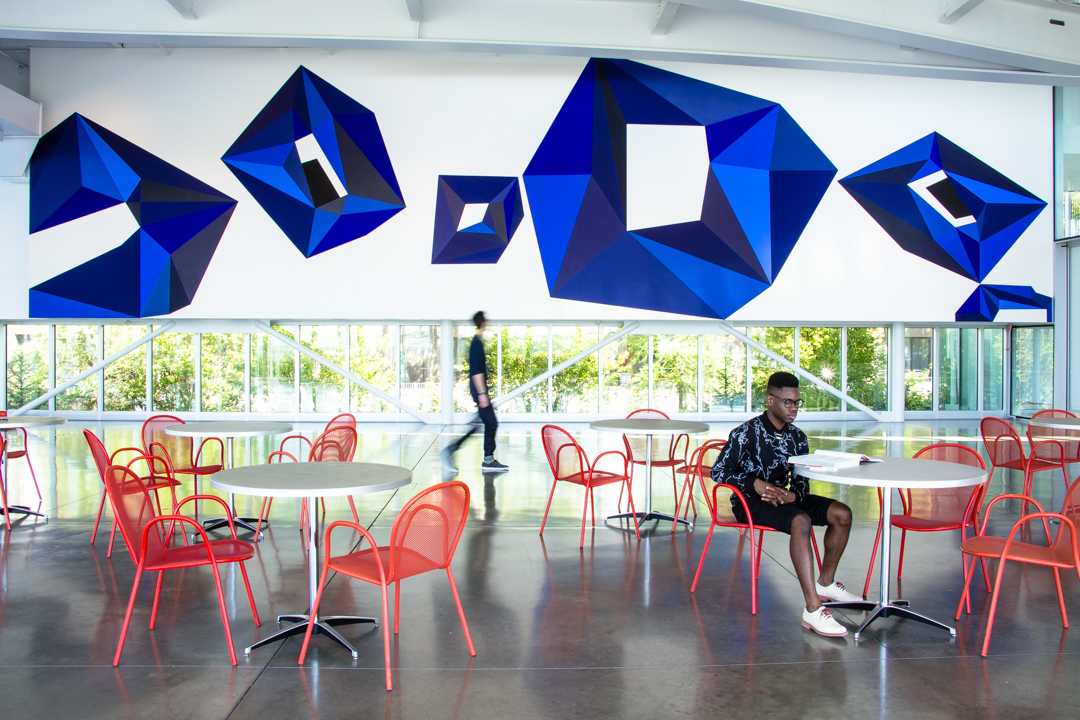 That lively spirit returns to the park every year through the temporary projects SAM commissions. For some artists, the short-term nature of their installations can lead to experimentation they wouldn't always attempt in a permanently sited piece. In April of 2016, Seattle artist Victoria Haven created Blue Sun, a large-scale wall drawing that was based on the path and reflections of the sun as she experienced them from her studio window in South Lake Union. "I think the process involved a sense of immediacy that gave Blue Sun an energy and an aliveness," Haven said. "It was like a breath on the wall; it was there and then it was gone. And, there's something beautiful about the rigor and commitment involved in creating a monumental project that exists for a relatively short amount of time."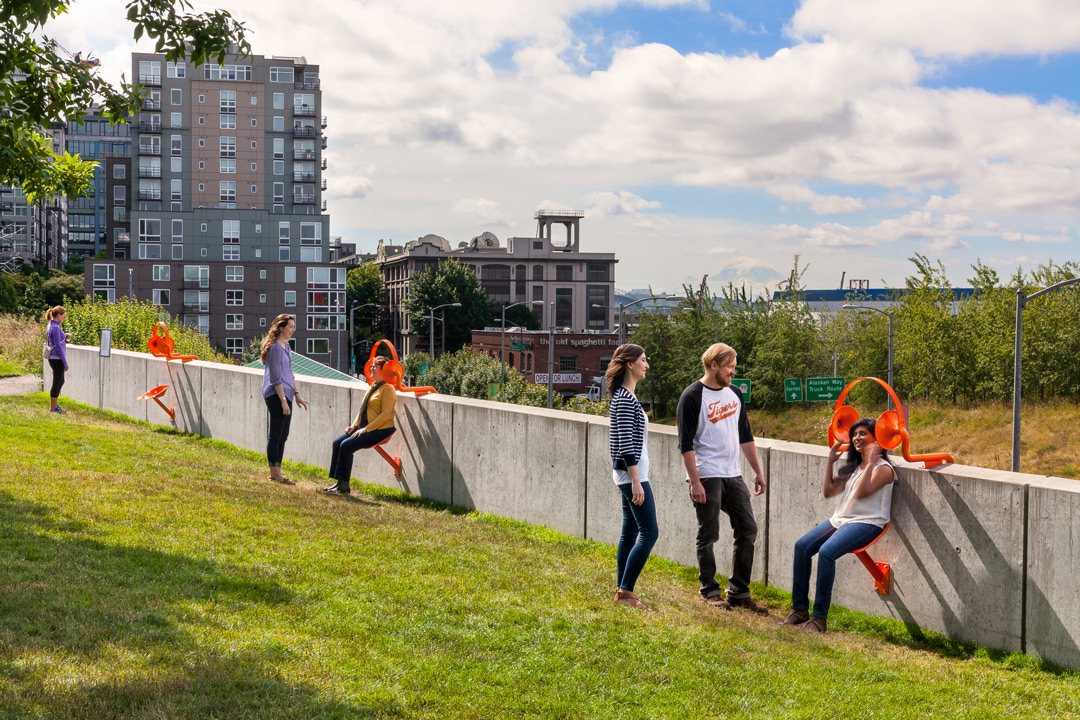 The sense of immediacy also played a role in Seattle artist Trimpin's 2014 temporary sound sculpture, YOU ARE HEAR. The installation's three listening stations were comprised of repurposed tractor seats and oversized sets of "headphones." Visitors who interacted with the piece experienced sounds created within their immediate environment, both from mechanisms the artist constructed and the sounds that naturally occur around the park. The artist himself became immersed in the sculpture park environment as he installed YOU ARE HEAR over a period of three days.  He explained, "I noticed there were lots of regulars coming through every day and that they were noticing how something unusual was going on. It was great to have a conversation with them . . . . It was an exciting chance to engage with the public as they were walking their dogs or jogging through the park."
The Olympic Sculpture Park offers a unique experience for both seeing and creating works of art. Just as the spinning reflections of The Western Mystery create a new perspective on the Olympic Sculpture Park, all of the temporary projects have given visitors reasons to rethink their surroundings over the last 10 years, both within the park and out in the world.
—Erin Langner, Freelance Arts Writer and Former SAM Adult Public Programs Manager
This post is the fifth installment in a series of stories exploring the history of the Olympic Sculpture Park in celebration of its 10th anniversary. Over the course of this year, we will continue reflecting on the Park's evolution over the past decade.
Images: Installation view of The Western Mystery (detail), 2017, Spencer Finch, American, b. 1962, Seattle Art Museum site-specific installation, Photo: Mark Woods.  Installation view of The Western Mystery, 2017, Spencer Finch, American, b. 1962, Seattle Art Museum site-specific installation, Photo: Mark Woods. Installation view of Safety Cones, 2008, Dennis Oppenheim, American, b. 1938, Seattle Art Museum site-specific installation, Photo: Paul Macapia.  Installation view of Blue Sun, 2016, Victoria Haven, American, b. 1964, acrylic, 57 x 14 ft., Seattle Art Museum Commission 2016, Photo: Natali Wiseman. YOU ARE HEAR, 2014, Trimpin, German, b. 1951, three part sound installation at SAM Olympic Sculpture Park, commissioned by the Seattle Art Museum. © Trimpin, Photo: Nathaniel Willson.